In the context of the programme "Accelerated Living", part of IMPAKT FESTIVAL 2009, 14-18 October 2009, Utrecht, NL. Preview here.
Wednesday 14 October 2009
Theater Kikker / 21:00
"We will sing of the multicolored, polyphonic tides of revolution in the modern capitals; we will sing of the vibrant nightly fervor of arsenals and shipyards blazing with the violent electric moons; greedy railway stations that devour smoke-plumed serpents; factories hung on clouds by the crooked lines of their smoke."
– F. T. Marinetti, 'Futurist Manifest'
Thomas Köner : The Futurist Manifest
The work of media artist Thomas Köner cannot be easily categorised. For years he was active as a sound engineer, before his project Porter Ricks caused a stir in the European techno landscape. In filmmaker Jurgen Reble he found the perfect collaborator to pursue his interest in the symbiosis of visual and auditive experiences. All these different influences come together in Köner's recent work, in which his fascination for sound colour has expanded to the moving image, resulting in a series of acclaimed performances and installations. At the occasion of the festival theme of "Accelerated Living" and the hundredth anniversary of the Futurist Manifesto, he has composed an "opera digitale" for Impakt, which will be performed with a prepared piano, a digital "noise orchestra" and a singer. The sonic sediments of one hundred years of industrialisation and acceleration will be condensed in a multidimensional audiovisual space, where image and sound interact as if "time and space died yesterday".
Carl Faia: prepared piano & live electronics
Iris Garrelfs: voice & live electronics
Thomas Köner: laptop noise orchestra, visuals
An Impakt production
———————————————————————————————————————————————————
Thursday 15 October 2009
Theater Kikker / 21:00
DOPES TO INFINITY
"I have something more cosmic in mind
It's a warpage of time and it's bliss for everyone"
– Monster Magnet
Time has this strange quality: it must be paced by events for us to be able to orient ourselves with it. This seems so natural that we don't even regard our temporal relation to events as something that dictates how we structure meaning and position ourselves in this world, thinking instead of the space-time continuum as an ideal outside reality, unless – of course – the temporal orientation process is dismantled or overthrown in some way. The performances in this programme disrupt the structure, the pattern of time. Using analogue instruments, including 16mm projectors, these artists generate a variety of sensory manipulations, drawing and reflecting on psychological and phenomenological effects of speed, motion and repetition. On one level or another some disruption or displacement of conscious processes occurs, lapsing into unconscious and visceral sensations; a recirculation of orientation and perception. Time is collapsed – leaving us dazzled, between shimmer and bliss.


Guy Sherwin
A key figure in British avant-garde cinema, Guy Sherwin (GB) pushes the limits of cinema with his films, installation works and performances, in which he explores film's fundamental properties: light and time. Concerned with seriality and live intervention, his work investigates questions such as the physical relationships between sound and image, the digital re-working of film, the mechanisms of projection, the methods of printing and the live interaction between performer and film. Since the 1970s he has been working on a series of studies on the illusion of movement and stasis experienced during train travel. For Impakt, he will present a selection of his "train films" in the form of an expanded film performance.
Dirk de Bruyn + Joel Stern
In his work, filmmaker and media artist Dirk de Bruyn (NL/AU) deals with the disorientating and traumatic experience of media saturated environments. A founding member and past president of MIMA (Experimenta), he has made numerous experimental, documentary and animation film and videos and interactive work over the last 30 years. He currently teaches Animation and Digital Culture at Deakin University in Melbourne. His performance 'LanterNfanten' for three projectors creates an absorbing space where time is disturbed and compressed as a kind of personal research on bodily trauma and cultural displacement, employing hand drawn, afterimage, single frame and flicker work. It will be accompanied by a live soundtrack from Brisbane based composer Joel Stern (AU), merging music concrète, art brut and noise.
Core of the Coalman
Core of the Coalman is one of the alter egos of composer and visual artist Jorge Boehringer (US), a project in the musical no man's land between power electronics, noise and contemporary classical music. With violin, his voice and electronics he builds sonic architectures hovering on the edge between chaos and order. Slow in form but powered and etched by sunshine continually, in the spirit of biting the hand that feeds one, Core of the Coalman is "dyspeptic subtended prescient lacuna". He has collaborated with a spastic mash-up of the experimental music community and the international avant-garde, including Yellow Swans, Grouper and Pauline Oliveros.
Bruce McClure
A film projector is not only a source of light but also of sound. Nobody understands this better than Bruce McClure (US) who with his immersive performances for multiple projectors creates a pure sensory game of pulsating rhythms and shadows, well beyond the borders of cinematographic time and space. McClure, an architect by training, "crossed over into the realm of the proto-cinematic as a consequence of trying to represent the beat of a metronome in time with the ultimate goal of laying down a line equal to the circumference of the earth at the equator. By recording the tempo and duration of his markings on paper he could calculate the distance travelled and what remained to complete a circumnavigation of the planet." For Impakt he has prepared a unique two-hour performance, which is sure to provide a hypnotic and overwhelming experience.
———————————————————————————————————————————————————
Friday 16 October 2009
Tivoli de Helling / 23:30
SPEED TRIBES
"It is not just a matter of music but of how to live: it is by speed and slowness that one slips in among things, that one connects with something else. One never commences; one never has a tabula rasa; one slips in, enters in the middle; one takes up or lays down rhythms."
– Gilles Deleuze
The arrival of low-budget music technologies in the mid 1980s drastically altered the relational bonds between humans and machines in electronic music cultures. According to Kodwo Eshun "Atlantic Futurism is always building Futurythmachines, sensory technologies, instruments which renovate perception, which synthesize new states of mind". The possibility of altering the speed of a record functioned as a key audio-technical transformation with wide-ranging subcultural impact. The bpm (beats per minute) metric, the operating grid of electronic dance music culture, acts as a filter whose fine-grained mesh distributes these audio populations. The sound system driven music cultures of the last two decades, especially in the UK, are populated with thousands of micro-scenes that have been deploying polyrhythmic attacks on this audio metric. Steve Goodman aka Kode9 calls these vertical rhythmic collectives "Speed Tribes", collective bodies swarming around certain speeds of sound. This night is all about these ecologies of speed, "those molecular seepages and rhythmic infections which deviate from social segmentations."
Mount Kimbie + James Blake
British breakbeat culture is alive and kicking. The explosion of dubstep has provoked a plethora of sound experiments and cross-overs from which a fresh sound emerges from time to time. One of those surprises is London duo Mount Kimbie (GB) who inject melancholic pop sensibility and hybrid rhythmic patterns into dubstep. They are joined live by vocalist James Blake (GB) whose exciting debut reconciles jazz, soul and a taste for melodrama with the sound of the imploding metropolis.
Cooly G
This protégé of the cutting edge Hyperdub label drew the attention of the so-called « UK funky » scene last year. It's not surprising : her spicy but contagious mixture of deep house and dubstep, seasoned with bitter sweet vocals and subtle touches of acid and hardcore is, without a doubt, a fresh wind in the the British club culture. Tribal rhythms and woozy synth chords, deep basses and aching sighs, light vibes and dark undertones : it's precisely these contrasts that make her music so irresistible!
The Bug + Flowdan
The man behind The Bug is Kevin Martin (GB), who has been reinterpreting industrial, dub and breakbeat since the 1990s. His fascination for intense and dark mutations of electronic rhythms and sub-harmonic frequencies was already present in earlier projects such as God, Techno Animal and Ice. The Bug is the culmination of all these influences : a highly personal exploration of bass culture, with a sound that he self-described as "warped ragga meets heavy electronic dub". His most recent release London Zoo was praised by several media as one of the most important albums of 2008. MC Flowdan (GB), a key figure of East London's grime scene, will accompany The Bug as guest artist.
Kode9
In recent years Steve Goodman aka Kode 9 (GB) has established himself as one of the most influential names in contemporary electronic music culture. A music producer, theorist and the owner of the celebrated Hyperdub label, he obstinately continues to explore the big city's sonic fabric, its energy fields and rhythms. Movement, vibration, exaltation, emotion: Kode 9's music acts like a hyper urban virus that mercilessly gets into our central nervous system.
+ DJ Sonido del Principe (Generation Bass)
———————————————————————————————————————————————————

Saturday 17 October 2009
Theater Kikker / 21:00
ECSTATIC MUTATIONS
"Below the level of sounds and rhythms, music acts upon a primitive terrain, which is the physiological time of the listener. (…) Because of the internal organization of the musical work, the act of listening to it immobilizes passing time; it catches and enfolds it as one catches and enfolds a cloth flapping in the wind."
– Claude Lévi-Strauss
As Lévi-Strauss suggested, music is registered throughout the body, it is not simply a matter of mental cognition. Compared to forms of visual communication, music possesses a visceral quality, relying for its effects not only on the neural registration of light waves but on the resonance of sound waves throughout the organs and the body tissues. It's safe to say that music has a degree of materiality which other forms of communication – apart from physical touch – do not have. For Lévi-Strauss, music has something in common with myth in that they're both "languages which, in their different ways transcend articulate expression, while at the same time requiring a temporal dimension in which to unfold. But this relation to time is of a rather special nature: it is as music and mythology needed time in order to deny it. Both, indeed, are instruments for the obliteration of time". The acts in this programme explore rhythmic structures built of vibration and pitch, material expressions of raw movement of sound that tear us away from conventional time. Music as a pulsing line of flight, a surface affect expressed through rhythm.
Thomas Brinkmann
Thomas Brinkmann (DE) is one of the foremost figures of the minimal techno movement, which has influenced contemporary music production since the 1990s. His fascination for programmatic and rhythmic structures finds its roots in his background as a drummer and his training as a visual artist, and most particularly in the influence of Minimalism's principle of reduction. The result is a vast oeuvre of mathematically refined scores made of complex grooves, overtones and doppler effects. In Utrecht he will present for the first time a completely improvised « klick » performance with 8 turntables, a series of vinyl records and a knife.
Arnold Dreyblatt Ensemble
The musical exploration of Dreyblatt (US), a student of the first generation of New York minimalist composers, is driven by an inclination for rhythmic complexity built on resonance and vibration. During the past decades he has developed a number of new instruments, tuning systems and performance techniques, with which he digs even deeper under the rhythmic surfaces in order to find a rich dynamics of textures and timbres. His work remained obscure for years, until it was brought to attention by musicians such as Jim O'Rourke who described one of his albums as "the first genuinely new sound in maybe 10 years". He has recently brought together an ensemble with Jörg Hiller, Joachim Schutz and Robin Hayward, which will offer a rare not-to-be-missed concert during Impakt.
Arnold Dreyblatt: Composer, Excited Bass, Laptop
Jörg Hiller: Drums, Automated Electric Guitar
Joachim Schutz: Electric Guitar
Robin Hayward: Amplified Tuba
Oren Ambarchi + Robbie Avenaim
Oren Ambachi (AU) uses the electro-acoustic transformation of his guitar as a laboratory for tonal research. The result is an abstract and fragile sound world that continuously searches the borders of time and space. He regularly collaborates with different musicians such as Fennesz, Keith Rowe en sunn0))). This time he will be reunited with his long-time friend percussionist Robbie Avenaim (AU), who explores the limits of the sound spectrum using modified and motorised drums. Together they create a visceral and kinetic audiovisual experience.
———————————————————————————————————————————————————
SPECIAL EVENTS
"Time is the substance of which I am made. Time is a river which sweeps me along, but I am the river; it is a tiger which mangles me, but I am the tiger; it is a fire which consumes me, but I am the fire."
– J.L. Borges
Sunday 18 October 2009
Theater Kikker/ 15:00 – 18:00
Charles Curtis, Carol Robinson & Bruno Martinez : Naldjorlak I, II, III by Eliane Radigue
The work of French composer Eliane Radigue (FR) is first and foremost an exploration of the phenomenological reality of sound : the combination of matter, vibration and resonance which ultimately determines our experience of sound. She began to experiment with electronic feedback in the 1950s, before discovering her medium of choice, the analogue ARP synthesizer. Since 2004 she has composed exclusively for acoustic instruments. 'Naldjorlak I', in which the hidden, complex sonority of the cello is fathomed, was developed as a collaboration with renowned cellist Charles Curtis (US). For the following parts, she required the participation of basset-horn players Carole Robinson (FR) and Bruno Martinez (FR). The result is a versatile and volatile sound world, which continuously balances on the verge of perception.
Charles Curtis: cello
Carol Robinson & Bruno Martinez: basset horns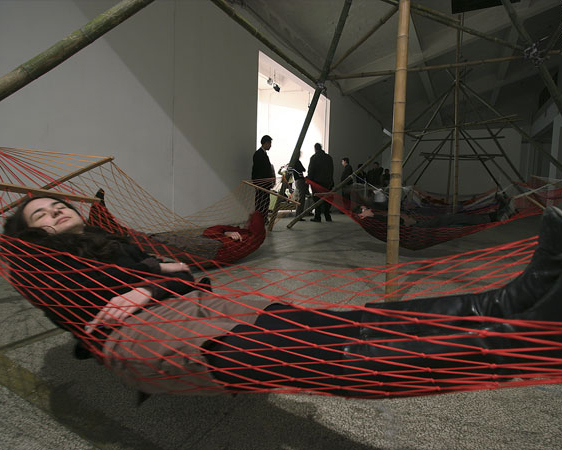 Friday 16 October – Saturday 17 October 2009
Werfkelder / 21:00
Leif Inge : 9 Beet Stretch
There are few musical works that speak to the imagination as does Beethoven's 9th Symphony. But although almost everyone in the Western world can easily hum its melody, this classic composition has not yet given away all its secrets. That's what Norwegian artist Leif Inge does by digitally stretching out the piece to a length of 24 hours, unveiling its unknown and unheard dimensions. A marathon performance which is sure to provide a peculiar perception of time. In the words of a participant : "I thought I was a fly trapped in honey."
Leif Inge's (NO) monumental work in sound, 9 Beet Stretch has become emblematic of his work as an artist, even if it spreads across a great variety of forms, fields and crafts. Context and idea are given equal importance in an open play which emphasises the quality of bisociation rather than linear association; a play on the context and the definitions used to define it which functions as a cultural statement in such way that the resulting work is often hard to brand in one field rather than the other. Leif Inge's work has been shown globally in venues like BizArt Art Center, Shanghai; Centro Nacional de las Artes, Mexico; Wien Modern, Vienna and Diapason Gallery, New York.

Special Thanks to: Dave Driesmans & Steve Marreyt (Kraak), Pim Verlaek (Impakt), Maurice Spijker (Mojo Music), Rebecca Prochnik (Elastic Artists).