19 – 20 March 2018, KASKcinema Gent – STUK Leuven.
"The most interesting of a take is what occurs fortuitously before and after the action."
This quote, borrowed from Werner Herzog, is at the heart of João Moreira Salles' remarkable film Santiago (2007): a film that was shot in 1992 but was only completed thirteen years later. In 1992 Salles, a trained economist, had already directed several documentaries, after having been introduced to cinematic practice by his brother filmmaker Walter Salles. One day he decided to use the leftover film-stock from advertisements he used to produce with his brother to make a film about Santiago Badariotli Merlo, who had been his family's butler for over thirty years at their Gávea mansion in Rio de Janeiro. Now retired and living in a small apartment in the Leblon neighbourhood, Santiago appears to be the perfect documentary "character": a flamboyant and picturesque man who recites poetry, plays castanets and piano, arranges flowers to perfection, and meticulously dedicates himself to documenting the lives of the world's aristocrats, for which he amassed more than 30,000 pages of notes. The five-day shoot generated about nine hours of material that Salles, however, abandoned in the editing process. "I tried to edit it but I couldn't do it", he said later. "The film was to be all about Santiago as an exotic character … a character that already existed before being filmed, I mean, he existed in my head more than anything." When Salles returned to the footage thirteen years later, he did not return to finish the film he never completed, but to make a different film—a film that looks at his own blindness, how his desire to make a film obstructed his ability to see and how his own class privilege stood between him and his "character." It is only by looking at the outtakes of the original footage, at those off-moments that would have ended up on the cutting room floor, that Salles is able to discover how the process of documenting leaves the filmmaker as caught on screen as his subject.
Santiago's telling subtitle: Uma reflexão sobre o material bruto, "A Reflection on Raw Footage", can as well be applied to Salles' latest film No Intenso Agora (2017), which he made following the discovery of images that document his mother's trip to China in 1966—the year when Mao Zedong launched what became known as the Cultural Revolution. The elated expression he discerns on his mother's face leads him towards an exploration of the fleeting nature of moments of great vitality, moments of living through an "intense now". Scenes of China and Salles' own childhood in Brazil are set alongside footage showing the French students' uprising in May of 1968 and the invasion of Czechoslovakia in August of the same year, when the forces of the Warsaw Pact put an end to the Prague Spring. What do these images of great personal and historical intensity, filmed inadvertently or purposefully, reveal of the state of mind of those filmed and those filming? What can one say of the shared experiences that unfolded in Paris, Prague, Rio de Janeiro, or Beijing by looking at the images of the period? Little by little, the film slides from questioning archival images to questioning the legend of May 1968 itself, in particular the roles played by rhetoric, performance and all kinds of "image-making". But has the rebellious spirit of 1968 only provided the dominant order with the means to renew itself, as many have come to argue, or can we also consider it as an interruptive force that continues to reverberate today? Now that the approaching 50th-anniversary of the events of May 1968 once again stirs up the longstanding debates on its influence and its legacy, No Intenso Agora encourages us to ask ourselves how its images can help us to surpass the sphere of disillusionment and disenchantment that has kept on lingering in its aftermath. A challenge that touches upon the core of João Moreira Salles' cinematic research: to probe the mysterious inner life of filmed images.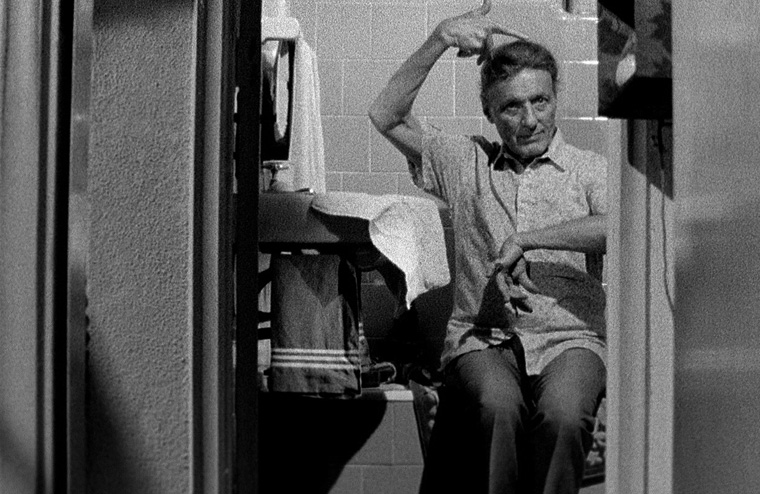 19 March 2018, 20:30 KASKcinema, Gent
Santiago
João Moreira Salles, BR, 2007, HD, b&w, 85′
"Thirteen years ago, when I shot these images, I thought the film would begin like this…" This is the first line of narration in João Moreira Salles' Santiago. A film not simply about Santiago, the filmmaker's family's butler, but about failure, about memory and about documentary filmmaking. In 1992, the filmmaker shot nine hours of footage, but aborted the project on the cutting room table. It is by looking at the outtakes of the original footage 13 years later that Salles deconstructs the myths of documentary filmmaking and makes a film that is as much about him as it is about Santiago.
20 March 2018, 20:00 STUK Cinema ZED, Leuven
No Intenso Agora (The Intense Now)
João Moreira Salles, BR, 2017, DCP, colour, 127′
In the Intense Now explores the revolutions of 1968 as they unfolded across four different countries and their political environments: France, Czechoslovakia, China, and Brazil. Narrated in first person by the director, the film reflects on that which is revealed by footage of the French students' uprising in May of 1968; the images captured by amateurs during the invasion of Czechoslovakia in August of the same year, when forces led by the Soviet Union put an end to the Prague Spring; the scenes that a tourist —the director's mother —filmed in China in 1966, the year of the Great Proletarian Cultural Revolution; and footage from Salles' own childhood in Brazil, during the establishment and rule of a repressive military dictatorship.
DISSENT ! is an initiative of Argos, Auguste Orts and Courtisane, in the framework of the research project "Figures of Dissent" (KASK/Hogent), with support of VG. In collaboration with KASK, STUK, Lieven Gevaert Centre and the Institute of Philosophy (KUL).
About DISSENT!
How can the relation between cinema and politics be thought today? Between a cinema of politics and a politics of cinema, between politics as subject and as practice, between form and content? From Vertov's cinematographic communism to the Dardenne brothers' social realism, from Straub-Huillet's Brechtian dialectics to the aesthetic-emancipatory figures of Pedro Costa, from Guy Debord's radical anti-cinema to the mainstream pamphlets of Oliver Stone, the quest for cinematographic representations of political resistance has taken many different forms and strategies over the course of a century. The multiple choices and pathways that have gradually been adopted, constantly clash with the relationship between theory and practice, representation and action, awareness and mobilization, experience and change. Is cinema today regaining some of its old forces and promises? Are we once again confronted with the questions that Serge Daney asked a few decades ago? As the French film critic wrote: "How can political statements be presented cinematographically? And how can they be made positive?". These issues are central in a series of conversations in which contemporary perspectives on the relationship between cinema and politics are explored.