4 – 30 OCTOBER, 2018, CINEMATEK, BRUSSELS.
An initiative of CINEMATEK and Courtisane, in collaboration with Le Service de Culture cinématographique (SCC). Curated by Stoffel Debuysere with Céline Brouwez.
"The love experience will be reshaped into a relationship that is meant to be between one human being and another, no longer one that flows from man to woman."
This quote from Rainer Maria Rilke, which adorns the end of Lou n'a pas dit non (1994), encapsulates the essence of Anne-Marie Miéville's quest, which is driven by a universal, imperishable question: how to live together? The same film illustrates par excellence how her singular trajectory finds its way through art history in all its forms, from the sculpture of the mythical couple of Mars and Venus, which occupies a central place in the film, to an extensive pas de deux from Jean-Claude Gallotta's Docteur Labus that expresses a broad palette of friction and tension between a man and a woman. Again and again, the possible relationship with another is examined as a constant field of tension between stasis and movement, between silence and speech.
Miéville's delicate study of the challenges of communication and the trials of love is already central in her first short film, How Can I Love (a Man When I Know He Don't Want Me) (1983), whose title is extracted from Otto Preminger's Carmen Jones (1954). The theme of Carmen doesn't accidentally recall Prénom Carmen (1983), a film for which Miéville herself provided the screenplay to Jean-Luc Godard, her companion in life and work since they collaborated on the film that would become Ici et ailleurs (1973-'76). But whilst Prénom Carmen revolves around the unrequited love of a man for a woman, the roles in How Can I Love are reversed. A reversal, as Alain Bergala has remarked, that changes everything, not in the least as seen in the mise-en-scène that reflects the desire for togetherness as a permanent arena in which men more often than not shield themselves, incapable or unwilling to open up to a possible dialogue.
The figure of the man who has lost his confidence in the potential of discourse returns in Le Livre de Marie (1984-'85), in which a marital separation is portrayed with remarkable elegance and precision from the perspective of the young daughter, who expresses her resistance to the parental drama with the help of language, music and dance. In Miéville's first feature length film, Mon cher sujet (1988), the power of word and song is employed by three women of as many generations — grandmother, mother and daughter — to acquire a place in a world where women are expected to share everything while men tend to flee from every commitment to share. Also in her following film, Lou n'a pas dit non, it's the woman who, by exploring various forms of expression and creation, paves the way for a possible exchange, in a perpetual movement of approach, confrontation and reconciliation.
How to give shape to commonality in difference? In Nous sommes tous encore ici (1996), originally devised for theatre, this question is approached using extracts from the work of Plato and Hannah Arendt that resonate in the life of a couple played by Jean-Luc Godard and Aurore Clément, who unmistakably evokes the presence of Miéville. In Après la réconciliation (2000), Godard and Miéville themselves act as two of the four characters involved in philosophical reflections on the powers and limits of language and the challenge to learn to live together with someone else who will always remain a stranger. Sometimes brutal and confrontational, then tender and comforting, Anne-Marie Miéville's work continues to trust in "the love we are struggling and toiling to prepare the way for, the love that consists in two solitudes protecting, defining and welcoming one another". (Rilke)
Apart from the films by Anne-Marie Miéville mentioned here, the programme also contains a selection of the work that she accomplished with Jean-Luc Godard, from the films that they produced between 1973 and 1979 under the name Sonimage to Miéville's collaboration in Godard's self proclaimed "second life in cinema" and the series of video-essays that they made together from the end of the 1990s onward.
Full programme can be found on www.courtisane.be.
On the occasion of this program, Courtisane, Sabzian and Cinematek have collected a series of writings and interviews in a small-edition publication (French / English).
——-

Ici et ailleurs (Here and Elsewhere)
Jean-luc Godard & Anne-Marie Miéville, FR, 1976, 35mm, 54′, French spoken
Here, an average family in front of their television. Elsewhere, Palestinian fighters, filmed during their daily activities, their training, their deaths. In 1974, Jean-Luc Godard en Anne-Marie Miéville presented a rereading of footage that was shot four years before in Lebanon, Syria and Jordan.
As Gilles Deleuze wrote about Ici et ailleurs: "It is not a matter of following a chain of images, even across voids, but of getting out of the chain or the association. Film ceases to be 'images in a chain … an uninterrupted chain of images each one the slave of the next', and whose slave we are. It is the method of BETWEEN, 'between two images', which does away with all cinema of the One."
——-
Numéro deux
Jean-Luc Godard, FR, 1975, 35mm, colour, 88′, French spoken
Screenplay by Jean-Luc Godard & Anne-Marie Miéville.
Jean-Luc Godard shows us the everyday life of a couple (loving, working) in its perfect banality: TV more real than life itself.
"Here, just as in China and Marx, human relationships always pass through the relationships between men and women. But the novelty of Numéro deux is that it's a fully female discourse (by the producer of the film (Miéville), a little girl and Germaine Greer) that's still being recorded by a man, since women don't yet have access to material means of communication. When you come across tourists, look carefully: it will always be the man who is carrying the camera. Yet cinema, just as many other things, would not exist without women." (JLG)
——-
Comment ça va?
Jean-Luc Godard, Anne-Marie Miéville, FR, 1976, 35mm, colour, 77′, French spoken
A trade unionist shows a leftist (played by Anne-Marie Miéville) a film that he made about the work inside his factory. She is dissatisfied with the result and urges him to think about each of his choices.
"Through her, Godard develops a critical dispositif in which the issue of representation of the working class is closely intertwined with that of production and circulation of information in society. Neither a neutral statement nor a gratuitous denunciation of the media, Comment ça va? is a dynamic film that bears witness to a juncture 'between the active and the passive' and which clearly chooses a side: that of reflection and montage as the politics of the gaze". (Olivier Joyard)
——-
Sauve qui peut (la vie)
Jean-Luc Godard, CH, DE, FR, 1979, 35mm, colour, 88′, French spoken, Dutch subtitles
Screenplay by Jean-Luc Godard, Jean-Claude Carrière & Anne-Marie Miéville.
A composition in four tempos that Godard regarded as his second "first film".
"It wasn't a question of one single departure and one single arrival, but of the creation of three different rhythms. There is the great speed of the intellectual character played by Nathalie Baye, who carries the remains of leftism in her. There is a second woman, at an average tempo: for her you must eat to live or live to eat; you must buy or sell. The most obvious character inside this logic is that of what people call a whore or a prostitute, because the example would be in close-up, exaggerated even, but the exaggeration is – if the character sketch is refined – not exaggerated, so to speak. And then there is the character of the man who's a bit like me, but ultimately isn't really… It's someone who doesn't move. It's a film in which all of the interesting characters are actually women, as forces that are more defined and extremely varied…" (JLG)
——-
Passion
Jean-Luc Godard, CH, FR, 1982, 35mm, colour, 88′, French spoken
Screenplay by Jean-Luc Godard, Romain Goupil, Jean-Claude Carrière & Anne-Marie Miéville.
While a film is being shot, a director is confronted with the struggle of a young worker who was dismissed by her boss because of her trade union activities. He decides to abandon his film project.
"In this interweaving of situations and passions, this montage of ideas, faces, and paintings, Godard, not without humor, questions the efficiency of political discourse and investigates ways to film a body (sculpturally, à la Ingres, or vulnerably, so as to make the exceptional familiar). Above all, he recaptures a theme that is dear to him, and that he already sketched in Sauve qui peut (la vie): the correlation between love and work… " (Jean-Luc Douin)
——-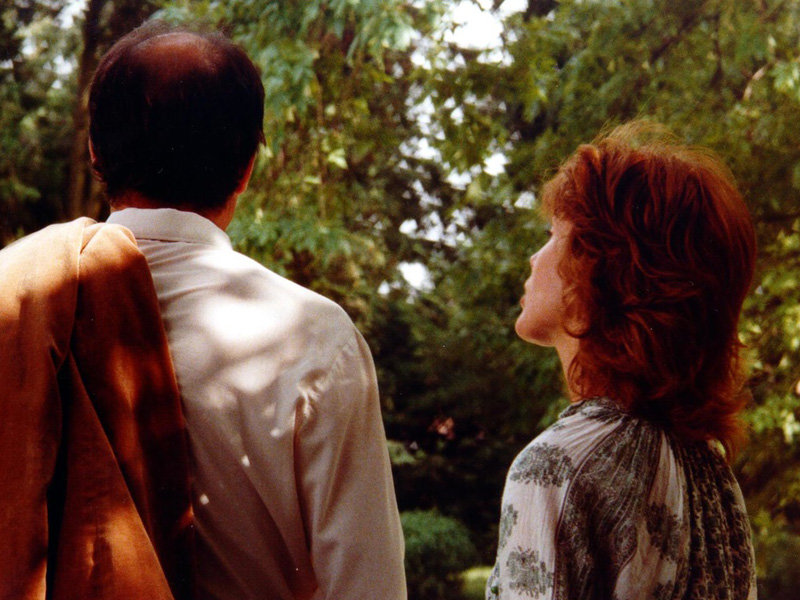 How Can I Love (A Man When I Know He Don't Want Me)
Anne-Marie Mieville, CH, FR, 1983, 35mm, colour, 13′, French spoken, English subtitles
"Before being a short film, this film by Anne-Marie Miéville is first and foremost cinema–and it's personal cinema. It goes straight to the core, without frills, without any form of self-protection… The film revolves around the godardian scenario par excellence, indeed, that of Carmen: someone loves someone who can't or doesn't want to answer this proposal of love. Incidentally, the title comes from Otto Preminger's Carmen Jones. The same origin. But the situation has been reversed; it's the woman who still loves a man who no longer loves her, and it was filmed rather from the woman's point of view. Which changes everything. "(Alain Bergala)
Prénom Carmen
Jean-Luc Godard, FR, 1983, 35mm, colour, 84′, French spoken, Dutch subtitles
Screenplay by Anne-Marie Miéville & Jean-Luc Godard.
A liberal adaptation – initiated and scripted by Anne-Marie Miéville – of the myth of Carmen, in which the lovers hum the tunes of Bizet against the backdrop of Beethoven's quartets. An opera about desires and tribulations, with bodies that attract and repel each other and a mischievous Godard playing Buster Keaton.
"If several directors have already made films called 'Carmen', it might be because Carmen is a great female myth that only exists through music. And if the era demanded that media, television and film seize this myth, it might be because it's in the air. But what's in the air? Maybe it's Carmen… But maybe it's also the last fight of women against men – or the first? "(JLG)
——-
Le livre de Marie
Anne-Marie Mieville, CH, FR, 1984, 35mm, colour, 27′, French spoken
"Young Marie retreats into her little girl's mystery – in her books, music, dance – and so refuses to be scarred by what she's going through… To film little Marie's story at a time when her parents are separating, Anne-Marie Miéville decided to observe Marie – without identifying with her, but simply recording how Marie copes with this first profound life experience or, rather, how this event permeates her… The film reaches a level of sharp, pure emotion and shows a new truth about the end of childhood." (Alain Bergala)
Je vous salue, Marie
Jean-Luc Godard, UK, CH, FR, 1984, 35mm, colour, 79′, French spoken
After Passion, Godard filmed Prénom Carmen before embarking on a new project: updating the Holy Scriptures by transposing the Annunciation and the mystery of the Incarnation to today's world.
"As the daily bread approaches the mouth each day, so should the film bring the viewer closer to their daily life: to love, give life, live life, have a child. Because that's what Mary represents: she is an image… She's a virgin image. Leaving no traces. No imprints. Being a virgin means being available, being free. The human density of each couple can be found in the story of the couple that Joseph and Mary form. "(JLG)
——-
Détective
Jean-Luc Godard, CH, FR, 1985, 35mm, colour, 98′, French spoken, Dutch subtitles
Screenplay by Alain Sarde, Philippe Setbon, Jean-Luc Godard, Anne-Marie Miéville.
One woman, two men, a love story, a murder, a boxing match, the mafia: a film commissioned by producer Alain Sarde, who wanted to recover the money he'd invested in Godard's previous film, Je vous salue, Marie.
"Détective is a trailer before being a film. A movie trailer regarded as art on commission: a scenario written by Alain Sarde, the producer of the film, a genre in vogue at the beginning of the eighties (the detective film), a knockout cast. The fiction film's trailer: a boxing match as amends, a debt of forty million, a couple that separates, a mafia gang, and an inspector who tries to solve the riddle of a murder." (Frédéric Strauss)
——-
Soft and Hard
Jean-Luc Godard, Anne-Marie Miéville, UK, FR, 1985, video, colour, 52′, French spoken
An intimate conversation between Godard and Miéville, subtitled "A Soft Conversation Between Two Friends on Hard Subjects".
"Setting aside the starting point of its title – the double entendre and crucial delineation of 'Hard' and 'Soft' as terms normally deployed both in pornography and electronic technology – the film embarks on a poetic meditation on the intersection of their work as film-makers, jointly and separately, and their lives in the domestic sphere (…) Their conversation addresses two principal questions: the differences in their position and relation as film-makers and then the context in which their work is made and shown in the contemporary audio visual domain. They discuss each other's demeanour and disposition with remarkable candour and contrast their relative feelings and confidence in facing the world. Anne-Marie talks with self-effacing hesitation: 'There are times when I feel that whatever originality there is in me… is very fragile. And since film-making for me is not as powerful and unique as it is for you…'" (Rod Stoneman)
Le Rapport Darty
Jean-Luc Godard, Anne-Marie Miéville, FR, 1989, video, colour, 41′, French spoken
"With Anne-Marie Mieville we made a film about Darty, at the request of the company itself. They told us: 'we make too much money. Everything is going too well; we're losing our minds. We don't know what's going on.' It must be said that the director was a real original. 'Can you tell us where we are and who we are?' We answered: 'Of course… give us two million and we'll give you a video of an hour. We'll give you a cultural audit.' That's what we did." (JLG)
——-
Faire la fête
Anne-Marie Mieville, FR, 1987, 35mm, colour, 13′, French spoken, English subtitles
An intimate conversation in the midst of a festive crowd.
Lou n'a pas dit non
Anne-Marie Miéville, FR, 1994, 35mm, colour, 78′, French spoken, English subtitles
"The idea of the film and its title was born of a passage of the correspondence between Lou Andréas-Salomé and Rainer Maria Rilke. Nevertheless the film describes certain instants and aspects in the life of a couple of today in metamorphosis. Here everyday life as shared between a man and a women is admittedly difficult. The woman, older than her partner, opens the way to an exchange, still possible in spite of everything, which is oriented to fraternity. As the poet says: 'Love will no longer be the commerce of a man and a woman, but of one humanity with another.'" (AMM)
——-
Mon cher sujet
Anne-Marie Miéville, CH, FR, 1988, 35mm, colour, 96′, French spoken, English subtitles
Three women aged 20, 40 and 60: daughter, mother, grandmother. Tomorrow, today and yesterday. Tomorrow is like the memory of yesterday, today the pivot between the two.
"Mon cher sujet presents three women at three different ages, through a lineage. I wanted to show differences in the relationships between these women… As far as men and women are concerned, I felt I was being honest; and I think both worlds should clash or bypass each other in a bid to try and live together. Men don't like to open their worlds. The soul of the subject is the child, the arrival of the child. It is creation, creature, and especially creator. " (AMM)
——-
L'enfance de l'art
Jean-Luc Godard, Anne-Marie Miéville, CH, FR, 1990, video, colour, 8′, French spoken
Episode of Comment vont les enfants?, commissioned by UNICEF.
A woman, a child, a man and another child, the noise of bombs falling and of planes passing by, in a urban landscape destroyed by war. A man dies before he had the time to write on the back of Delacroix' La liberté guidant le peuple: that could be the plot, just the enigma consisting of a missing word. A question opened before death, resolved by a child, the shadow and spirit of Gavroche.
2 x 50 ans de cinéma français
Jean-Luc Godard, Anne-Marie Miéville, UK, CH, FR, 1995, video, colour, 50′, French spoken
Episode of the series The Century of cinema, commissioned by the British Film Institute.
"Why pay homage to cinema? Hasn't it been celebrated enough, or is that no longer so? I don't like commemorations. I make cinematographic (his)stories because I've occupied this terrain a bitand because nobody ever told me what I was doing there. Honoring implies, in a sense, to exaggerate the value of something that has been neglected or forgotten, as a way to make up for it in an honorable way. Understand me well, I have nothing against festivities, but if cinema were to be what it should have been, it would be just fine without them."
——-
Nous sommes tous encore ici
Anne-Marie Miéville, CH, FR, 1996, 35mm, colour, 80′, French spoken, English subtitles
A film in three parts and with three main characters: two women and one man. Three parts from different periods of time in a history that we all share.
"It may not seem so, but Nous sommes tous encore ici is a very cruel film. A film in three integrally embedded parts… Thus three characters. But above all, three anchored periods of time, three logical periods. First, a crucial philosophical questioning of life, justice, equality (with excerpts from Plato's Giorgias). Second, an extension of that reflection via a naked figure, tracing the contours of human horror – a development of which we will see functions as a pass door (alluding to the theatre) (with fragments from Hannah Arendt's The Origins of Totalitarianism). Third, the couple as a hypothesis of happiness: the space of love but also the place of a certain kind of work, permanent and vital. The work of love, without which there is no lasting couple." (Olivier Seguret)
——-
The Old Place
Jean-Luc Godard, Anne-Marie Miéville, US, FR, 1999, video, 48′, French spoken
Courtesy of The Museum of Modern Art
"Taking the opportunity of a commission from MOMA, The Old Place makes the museological purpose of Godard's life's work explicit. Having recorded the dreams and horrors of the 20th century, cinema has become an "old place" where all those who "refuse time, because they don't want to lose rank", find refuge. It's up to cinema to build its own refuge, and to welcome in images from the past; because "from Botticelli to Barnet, it's the same gaze, the same suffering" – a possible development of the "classic= modern" equation written on a blackboard in Bande à part. And in the role of museographic patron saint, Malraux has been replaced by Walter Benjamin. Godard bestows on cinema the task Benjamin assigned to the historian: that of saving from oblivion images and men who were victims of history. In every image, wrote Benjamin, quoted by Godard and Miéville, "the past sets up a lightning-flash resonance with the present to form a constellation". In The Old Place, the flash through the history of the 20th century, of art and of cinema, becomes a journey to the stars – and the museum becomes a planetarium." (Cyril Neyrat)
L'origine du XXIe siècle
Jean-Luc Godard, Anne-Marie Miéville, FR, 2000, video, colour, 16′, French spoken
An attempt, according to Godard, to capture the origins of the 21st century, ordered in 2000 for the opening of the Cannes Film Festival: "I have tried to cover the memories of the atrocious explosions and crimes with children's faces and the tears and smiles of women."
"The attempt was of course bound to fail, as there is no cure against all the horrors of the last century in this retrospective. Godard scans the 20th Century in reverse; its major trends include armies and refugees, cannon shots and prisoners, freight trains and mountains of corpses, conquests and occupation, humiliations and torture. And when a scene starts a quest for a lost Century, the aim is not to find again the sweetness of remembrance, but an era lost because it was devastated by violence and wars." (Michael Althen)


Liberté et Patrie
Jean-Luc Godard, Anne-Marie Miéville, CH, 2002, video, colour, 21′, French spoken
"The title of this twenty-minute video by Jean-Luc Godard and Anne-Marie Miéville, 'Freedom and Fatherland,' is the official slogan of the Canton de Vaud, in Switzerland, where the filmmakers live and grew up. To fulfill their commission from a Swiss cultural festival, they adapted a great Swiss novel, Aimé Pache, Painter from the Vaud, by Charles Ferdinand Ramuz, from 1911 and extruded its autobiographical analogies to Godard's own life and work. Using a choice set of clips from Godard's films to coincide with events from the painter's life, verbal references to modern times and to Godard's own—Sartre, the late nineteen-sixties, the cinema—and images of the Swiss terrain, which plays a decisive role in the work of Pache, Godard and Miéville produce the effect of mirrors within mirrors." (Richard Brody)
——-
Après la réconciliation
Anne-Marie Miéville, CH, FR, 2000, 35mm, colour, 74′, French spoken, English subtitles
Two women and two men meet, converse with one another and ask questions, even about the use of words, but especially about fundamental matters concerning happiness and love. Is the harmony of love reconcilable with wisdom and intelligence, with fear and fatigue? With humour, seriousness and pleasure, these men and women, who know the price of existence, seek their road together.
"The reconciliation mentioned is not the one you first think of. It is not about people who argue and then make up. It's rather reconciled with the fact that everything appears and then disappears. It's the world itself, and there is no other, which the four characters begin to accept. "(AMM)